Allen Valleys Wildlife Group

Our group was started in March 2013 to promote an interest in wildlife in the Allen Valleys. We were initially supported by the North Pennines AONB Partnership through their Wildwatch project as one of three groups in the region, the other two being based in the South Tyne Valley and Weardale (see the top menu bar for links to their websites).
Who we are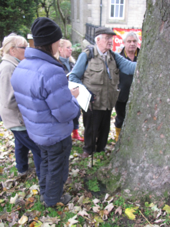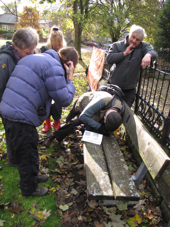 We are a group of amateur naturalists, mainly ornithologists (birds) and botanists (plants) who live in the Allen Valleys. Here we are studying lichens in the centre of Allendale under the expert tuition of Geoffrey Chaytor.

What we do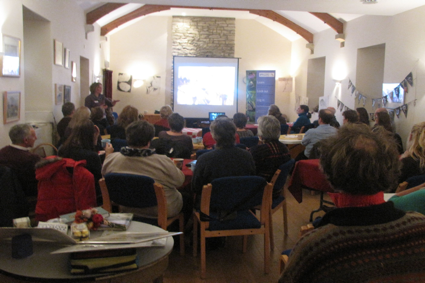 We arrange a programme of talks and visits which is given below, and as individuals we go out recording such wildlife as we see on the AONB's WildWatch database. You don't need to know very much to come and enjoy our talks, and you don't need to record things if you don't want to. If you want to recognise more plants/birds/animals we can help. We also suggest you get used to using iSpot (see below).

Contact us
email John Dobson<john@johndobson.info> if you want to receive emails about our events, or want to know more, or let us know what would interest you, or even join our group. You can also email John if you want to bring something to our attention.
You also keep in touch through our Facebook page
What we did in 2014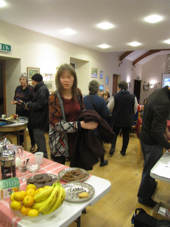 We went for a bird walk with Charlotte Reid. We enjoyed a talk by Susie White on "Foraging for wild plants". We explored the rich flora of Bell's Grooves near Allenheads with Professor John Richards. And we had an annual informal get together with people from the AONB and the other local wildlife groups.

What we plan to do in 2015
The Wildwatch project, which has supported our activities for the last two years, finished at the end of 2014. We are now setting ourselves up as a 'section' within the Friends of the North Pennines, which is supported by the AONB. This has some financial and administrative advantages, though there will be more work for those on the organising committee because we shall no longer be able to use the services of Sam Finn, who has been such a support in helping us start up and get going.
Although we have not yet arranged all the details and dates, we will still have a program of talks and visits on wildlife. Note that the dates given below are subject to change. For those of you who have let me know their emaill addresses, I will let you know as changes occur as well as updating this calendar. Some practical nature conservation work may also be arranged. As events are planned, details will be posted below.
Date
event
venue and time
25 March (Wednesday)

Tim Dean
Northumberland Birds

7pm Sinderhope Community Centre
May 16/17

Burnlaw Biohunt and family day

June 9

a botanical walk

September

bats – a talk and evening walk
Our assets
As a final act –a sort of legacy– Wildwatch donated to each of its three local groups (Allen Valleys, Weardale, Alston Moor) some money to buy books and nature kit on a long-term loan basis. These will be available at our talks and, where appropriate, will be taken on our walks. The equipment consists of
a dissecting (stereo) microscope
a low-power usb microscope (like an ordinary microscope but the eyepiece is attached to a computer — useful for illustrating talks
4 x10 tripod lenses — easy for children
2 10x42 bird binoculars
a bat detector
books to identify

flowers
grasses sedges and rushes
common lichens
birds
butterflies and moths
small mammals
We are very grateful to Wildwatch and in particular Sam Finn for arranging this legacy for us.
Other local group events in 2015
The AONB runs a number of events and projects concerned with nature.
For a full list of the events, click here.
For a list of events run by the other local groups (Alston Moor and Weardale), click here.
We are planning to do a bat survey in conjunction with the other local groups. This will involve a training session to learn how to use the bat detectors and then a number of walks in areas where bats may be found and recorded. Further details will be emailed and posted here as they are arranged.
About iSpot
One of the most useful natural history resources is iSpot. You submit a photo of almost anything natural, and professional and amateur experts will identify it for you. If you think you have a clue about what it might be, you can submit that too, and your tentative identification will be confirmed or corrected, so that you become more proficient and confident in your identifications. And it's free.
About the Area of Outstanding Natural Beauty (AONB) Partnership
The North Pennines AONB Partnership is an alliance of statutory agencies, local authorities and voluntary or community organisations which care about the area and look after the environment within it. Our wildlife group is part of their activity.
More about the AONB Partnership 
About Wildwatch
WildWatch North Pennines was an AONB Partnership project to encourage and help you to record wildlife in and around the North Pennines AONB, helping to conserve biodiversity. Although it finished at the end of 2014, it will still be possible to record wildlife sightings through the AONB website, which works closely with the regional record centres, local recording groups, Wildlife Trusts and many others to ensure records are verified and then put to good use.
About the Friends of the North Pennines
We are also a group member of the Friends of the North Pennines. The Friends of the North Pennines charity was launched in 2011. It has been specially created for people who are passionate about looking after, and celebrating the special qualities of the North Pennines AONB and European Geopark.
Supported by the North Pennines AONB Partnership and the Friends of the North Pennines